Peace, Tranquillity and Nature

Peace, tranquillity and nature are available at Oare Manor and its surrounds in equal measure. Exmoor is truly a unique area in England where rugged coastline meets the outstanding beauty of the moors and surrounding countryside. Nothing else in England comes close to matching the fantastic contrasting scenery that you will find in this stunning place where the population is actually reducing. The House sits within the Exmoor National Park an area of 267 square miles that is totally protected from the world of developers and the valley in which the house sits is entirely peaceful with absolutely no noise or light pollution. You will sit in the gardens of Oare and marvel at the complete peacefulness, the total lack of road noise, the absence of aircraft noise and a sense of tranquillity that is increasingly hard to find.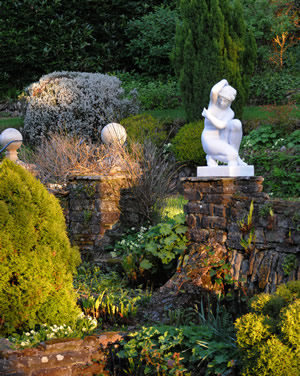 From the rugged coastline that features the highest cliffs in England to the moors that rise up to 1500 ft this is not surprisingly a paradise for wild birds and animals. There is even the possibility of spotting one of the beasts of Exmoor, a breed of Big Cat closely associated with the Puma that is believed to be not merely present but quite probably increasing in number. Though seldom seen there are plenty of photographs of their footprints and evidence from farmers that the Big Cat is alive and well in this part of the world. But you are far more likely to see the wild red deer, the Exmoor Ponies that roam freely over the moor, kestrels, snipe, and along the coastline rare peregrine falcons, curlews and even oyster catchers. In the rivers you could be lucky enough to see otters which at one time were close to extinction but are now making a comeback.

Exmoor is a place where the human population may be declining but where nature is thankfully thriving. Despite that, Exmoor is also a place where you will find great food. Near Oare, Porlock ( 7miles away) is home to 'Andrews at the Weir', an excellent restaurant presenting food at a 'London level' whilst 7 miles in the other direction The Star combines a good old English pub environment with another excellent restaurant. In Porlock you will also find 'The Cheese Shop' recently featured in the Sunday Times with a splendid range of French and English cheeses on offer, a wide selection of delicatessen fare and even offering what is said to be the world's most expensive coffee namely Kopi Luwak Arabica. A fine family butcher in Porlock and another in Minehead together with top quality fruit and vegetables and bakers will help ensure that you are not entirely cut off from what we tend to call civilisation!

And when you have finished with all that food and dining you can return to the garden to enjoy the beautiful star filled skies that are quite unbelievable to folks that live in cities.
//include ("includes/oare_logo.php")?>